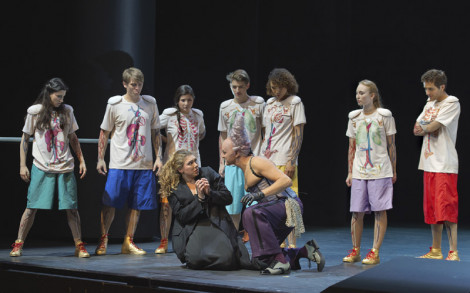 Regie auteur Hans Neuenfels has, to his dubious credit, expanded the possibilities of operatic stagings, from inserting bees into Nabucco to rats in Lohengrin to severed heads of Mohammed in Idomeneo. The absence of any such shenanigans in his 2012 staging of Mozart's early La Finta Giardniera might seen a cause for relief, but the truth is that Neuenfels' staging it was such a dull and confusing affair that one almost wishes for oversized vermin or offensive religious content.
Subtitling the opera, "The Gates of Love," Neuenfels reworks the libretto to include lengthy German-language digressions about the opera's jumble of wild emotions, coincidences and deceptions. It is certainly true that the libretto chosen by the 18-year-old Mozart is a mess, but Neuenfels' decision to add his own running commentary doesn't help things. This meta-content is often declaimed by invented characters but occasionally by the singers, who speak in German yet sing in Italian.
Aside from Neuenfels' insipid dramaturgical amendments, the opera's luster is further dulled by a bland set and incongruous costumes by Reinhard von der Thannen. These include chincy 1980s lounge décor, oversized glass coffins and anatomical tee shirts and athletic shorts for the non-speaking extras who follow the lead singers at most every turn.
UPCOMING PERFORMANCES:
NOVEMBER 2013: 28.
DECEMBER 2013: 1., 3., 5.